15 killed in Assam floods, 1.89 lakh people affected in 9 districts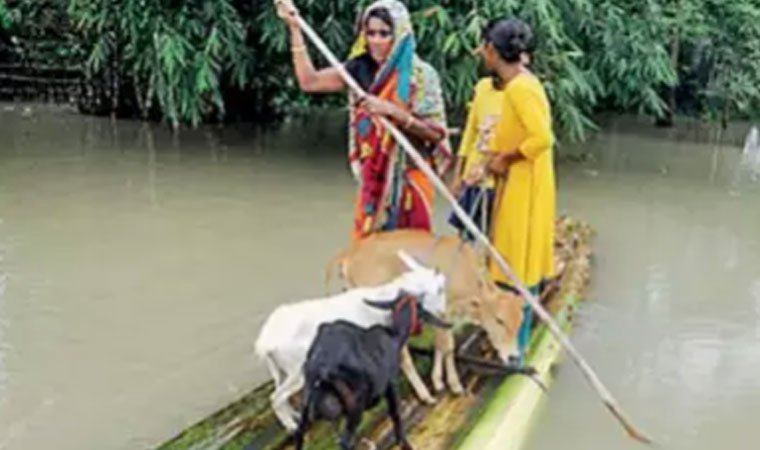 GUWAHATI: The flood situation in Assam further worsened on Thursday with one more person losing his life and over 1.89 lakh persons in nine districts of the state being affected. The situate turned worse following almost continuous rainfall and release of dam water amid spikes in Covid cases.
According to the daily flood bulletin of the Assam State Disaster Management Authority (ASDMA), one person died at Sissiborgaon in Dhemaji district, taking the flood toll in the state to 15.
The flood has impacted altogether 1,89,314 people, of whom 11,468 are taking shelter in 49 relief camps and relief centres. A total of 19,430 hectares of crop lands are submerged.
The first wave of the flood started on May 22. The state has at least 2,400 active Covid-19 positive cases as on Thursday.
Lakhimpur, Biswanath, Golghat, and Tinsukia districts were added to the list of five districts inundated on Thursday. The five districts were Dhemaji, Jorhat, Majuli, Sivasagar and Dibrugarh districts.
To add to the dire situation, neighbouring Bhutan has released over 2700 cumecs of excess water from Kurichu dam, about 30km from Barpeta Road in lower Assam on Thursday. The dam's water will directly impact the level of Beki, Manas, Pagladia, Kaldia and Pohumara rivers, affecting lower Assam districts like Nalbari, Baksa, Barpeta, Chirang, and Bongaigaon.
Dibrugarh, Tezpur, Dhubri, North Lakhimpur and Barpeta received rainfall of 22 mm, 10.6 mm,34,3 mm, 12 mm and 93 mm respectively from 8 am to 2.30 pm on Thursday.
Dhemaji is the worst-hit with 91,009 people in 200 villages suffering, followed by Majuli with 27,264 people in 56 villages and Tinsukia with over 24,000 people in 73 villages.
The day also saw chief minister Sarbananda Sonowal taking stock of the prevailing flood situation in the state and talking to the DCs of Dhemaji, Lakhimpur, Jorhat, Majuli, Sivasagar, Dibrugarh, Tinsukia, Barpeta, Chirang, Baksa through video conference.
Sonowal asked the DCs to adhere to the safety protocols of the Covid 19 pandemic while negotiating with the relief and rescue operations in the ongoing spate of flood in the state. He also made it categorically clear to make available adequate medical facilities in the relief camps.
Sonowal also took stock of a damaged bridge leading to Baghjan and asked the Tinsukia DC to ensure that the fire tankers to and from Baghjan do not face any bottleneck.
The CM asked the district administration to have constant vigilance over the water level in their respective districts, especially in the wake of reported release of water from Bhutan.
The Brahmaputa is flowing above the danger level at Neematighat, in Jorhat, in Tezpur, at Bahari in Barpeta and in Dhubri districts, Disang in Sivasagar district, Dhansiri at Numaligarh, Giolaghat and Jia Bharali at NT road crossing, Sonitpur.
Over a hundred people have been evacuated in Dhemaji district by SDRF. Surface communication has been disrupted with three roads in Lakhimpur and Majuli district damaged.
Floods have also affected over 64,000 domestic animals and poultry and cases of damage to roads and erosion have been reported from the affected districts.
News Source The Times of India