Airlines reopen bookings on 6 routes as ban on incoming flights nears end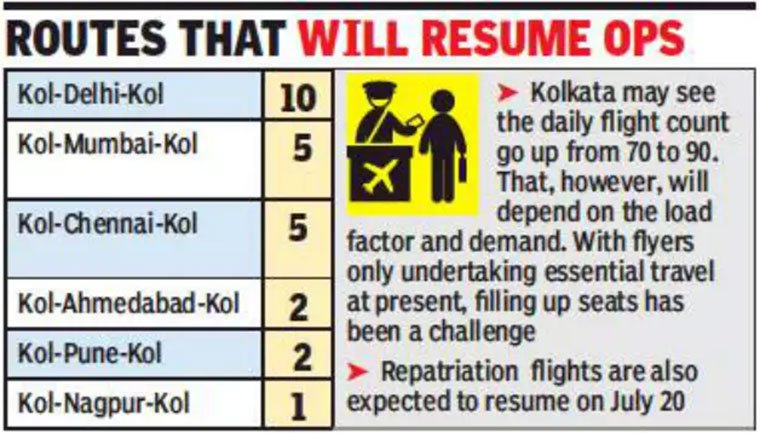 KOLKATA: Airlines have reopened bookings on six of the busiest routes in anticipation of the ban on flights from Delhi, Mumbai, Pune, Nagpur, Chennai and Ahmedabad to the city being lifted on July 20.
The fortnight-long ban on travel from Delhi, Maharashtra, Tamil Nadu and Gujarat — states with higher incidence of Covid infections than Bengal — had been announced by the civil aviation ministry, following a request from the state government and came into effect on July 6.
"We are ready to resume flights on all the sectors that had been off the radar for the past two weeks. Although flights from Kolkata to these cities were not banned, it was not feasible to operate one-way flights," an official of a private airline told TOI on Wednesday.
The embargo on flights had seen daily departures dip from 65-70 to 40-41. Passenger figures had gone down from 16,000-17,000 a day to just over 9,000. Once the flights resume on Monday, airport officials expect a spike in travel to meet the pent-up demand. Though a few people who were desperate to reach Kolkata took flights to the city via other airports like Patna or Guwahati Airport, many did not travel fearing quarantine at the transit point or on arrival in Kolkata.
While other airports like Chennai, Mumbai and Hyderabad have also restricted the number of arrivals to check the number of travellers in the belief that it will slow down the rate of Covid infection in the states, the travel trade fraternity pointed to the spike in Covid cases since the ban. While new Covid cases in Bengal increased by 12,301 since July 6, the 10 days preceding that had recorded 6,478 cases. In Kolkata, 3,867 new cases have been recorded since the ban on flights against 1,975 cases in the 10 days preceding that.
IndiGo, the largest airline operating out of Kolkata, saw 12 flights being grounded by the embargo. SpiceJet, AirAsia and Air India also grounded flights while Vistara didn't operate any flights. Ten flights from Delhi to Kolkata went off the air, five flights each from Mumbai and Chennai, two flights each from Ahmedabad and Pune and a lone flight from Nagpur were cancelled.
An IndiGo official said the airline was ready to resume operations of all flights that had been grounded. "We have a good number of passengers booked from Delhi, Mumbai and Chennai to Kolkata," he said.
News Source The Times of India