CM assures good news to Bodo people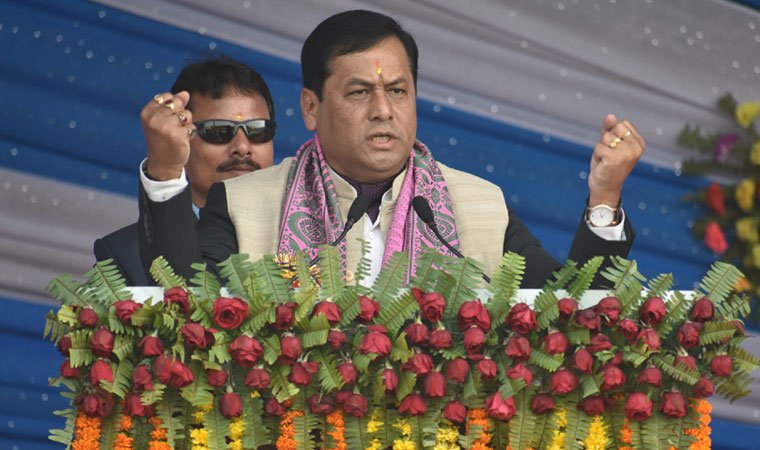 Chief Minister Sarbananda Sonowal speaking at the open session of 59th annual conference of Bodo Sahitya Sabha at Khoirabari in Udalguri district, on Wednesday.
KALAIGAON, Jan 22 – The 59th Bodo Sahitya Sabha session concluded at Daoharu Fwthar, Khoirabari, today with a promise made by Chief Minister Sarbananda Sonowal that soon the Bodo community would get good news from the government. More than 20,000 people attended the concluding day of three-day mega literary event of Bodo community. Lwmshrao Daimari, EM, BTC, and president of the reception committee, welcomed all the guests and delegates.
Chief Minister Sarbananda Sonowal inaugurated the concluding day's open session at 2 pm which was presided over by Taren Boro, president of the Sabha.
Speaking on the occasion, Sonowal thanked Bodo Sahitya Sabha for organising the mega literary event with dedication and discipline. He also assured that he would take total responsibility to safeguard the indigenous people of Assam.
Without elaborating the details, he said that the Bodo community can expect immediate good news from the government. He also promised equal justice to all the indigenous communities of Assam. "Rights of all the indigenous communities of Assam will be protected," he said.
He also recalled the contribution of Late Joybhadra Hagjer, the first president of Bodo Sahitya Sabha. Requesting mothers and teachers of the State, Sonowal said that the new generation people could shine if they were given good education, both at school and home. He also appealed to the youths to take interest in literary activities too along with their school curriculum.
"Literary bodies of various indigenous groups of Assam must sit together time to time to frame a few common agenda," Sonowal said.
He also inaugurated E-Thunlai, a new computer software application for the learning of Bodo language. Hagrama Mahilary, BTC chief, attending the session as the chief guest, said that Bodo language would be introduced in JNU and Delhi University soon. He also thanked Assam government for the literary grant of Rs 5 crore.
The open session was also addressed by Prof Scott Deliancy of Oregon State University, USA; Ranjit Dass, State BJP president, among others.
Sahitya Akademi Awardee Anju Basumatary attended the open session as the appointed speaker. Ministers like Pramila Rani Brahma, Chandan Brahma, Rihon Daimary, Mangaldai MP Dilip Saikia, Rajya Sabha MP Biswajit Daimary, beside a few BTC EMs, MLAs and MCLAs attended the open session.
News Source Assam Tribune