Eastern Mediterranean tensions escalate after preliminary Turkey-Libya maritime deal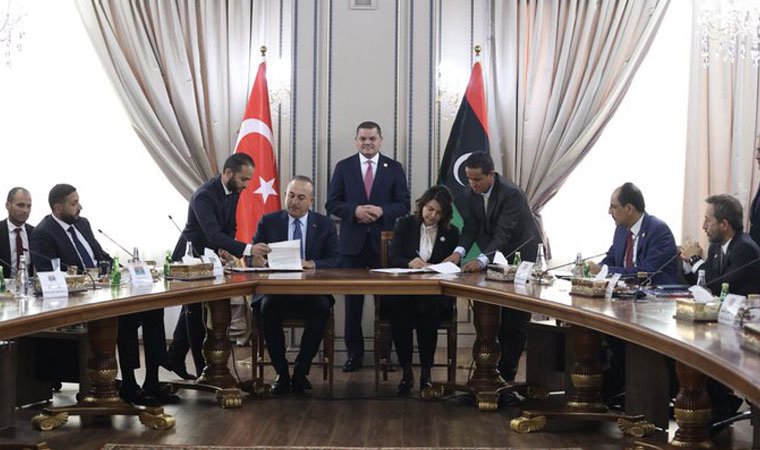 Tensions in the Eastern Mediterranean ratcheted up to new highs after Turkey signed a "preliminary deal" with Libya's Tripoli-based government allowing for oil and gas exploration in a contested maritime zone.
"It is indeed an escalation," a diplomat with knowledge of the matter told Middle East Eye on condition of anonymity.
"If Turkey tries to send drilling ships south of the island of Crete, it will be very serious for the region and its stability," the official added.
🇱🇾 🇹🇷Libya Turkey sign economic and maritime deals. Possible oil & gas off south coast of Crete. Libya's Tripoli gov't just signed deal to allow Turkey to explore for in Libya's section of 2019 self-declared Tripoli-Ankara giving Ankara 'right'to explore in Greece's EEZ off Crete pic.twitter.com/XcvY97yD6x

— 𝚁𝙰𝙶𝙴 𝙰𝙶𝙰𝙸𝙽𝚂𝚃 𝚃𝙷𝙴 𝚅𝙰𝙲𝙲𝙸𝙽𝙴 (@72powpow) October 4, 2022
NEW: Turkish Foreign Minister suggests all the main factions struggling for power in #Libya now support the 2019 maritime deal it signed with #Turkiye #Turkey

Libya should now define its maritime borders and register them at the UN, Cavuşoğlu says. photo @anadoluimages pic.twitter.com/vni5briVXM

— Andrew Hopkins (@achopkins1) October 3, 2022