Flood situation improves in Assam, 1.95 lakh affected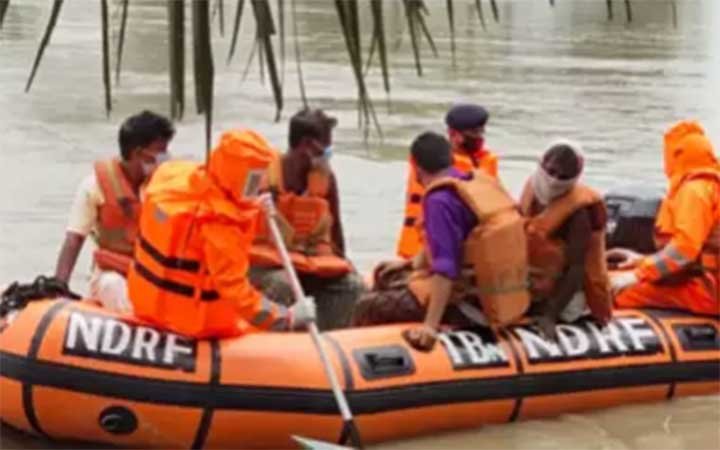 GUWAHATI: The flood situation in Assam is improving rapidly, with the number of affected people coming down to 1.95 lakh by Tuesday evening. Still, 15 districts of the state remain affected by the floods, as stated in the evening report by the Assam State Disaster Management Authority (ASDMA), but the figures show that the state is limping back to normalcy.
While the number of people hit by floods in Assam on Monday evening was 3.88 lakh, the corresponding figure stood at 1.95 lakh on Tuesday evening.
Inmates in relief camps have come down to 4,129 and there were no reports of human life loss on Tuesday. A total of 23,591.82 hectares of crop areas remained affected by the floods as per the latest flood report.
Some rivers are still flowing above the danger level mark, though the rainfall activities have reduced in the last couple of days in the northeast. As per the Central Water Commission bulletin issued at 8 am on Tuesday morning, river Brahmaputra was flowing above danger level at Neamatighat (Jorhat) and Dhubri. Jia Bharali river at NT Road Crossing in Sonitpur district and Kopili river at Dharamtul in Nagaon were also flowing above the danger mark.
Among the wildlife hotspots, Kaziranga National Park has been worst affected this flood, the ASDMA report stated. A total of 151 animals have died due to the flood and 172 animals were rescued as reported by the DFO of Eastern Assam Wildlife Division.
Meanwhile, in view of the large-scale disaster caused by the river Beki with respect to flood and erosion along its meandering course, Assam governor Prof. Jagdish Mukhi on Tuesday held a meeting with the additional chief secretary (water resources), Syedin Abbasi, CEO of Flood and River Erosion Management Agency of Assam (FREMAA) Siddharth Singh and other senior officials at Raj Bhavan and reviewed the progress of implementation of different flood management programmes.
News Source Times of India