Ulfa-I claims hand in Assam blasts
Govt uses the occasion to reiterate its commitment to protect Assam's 'culture, language and political identity'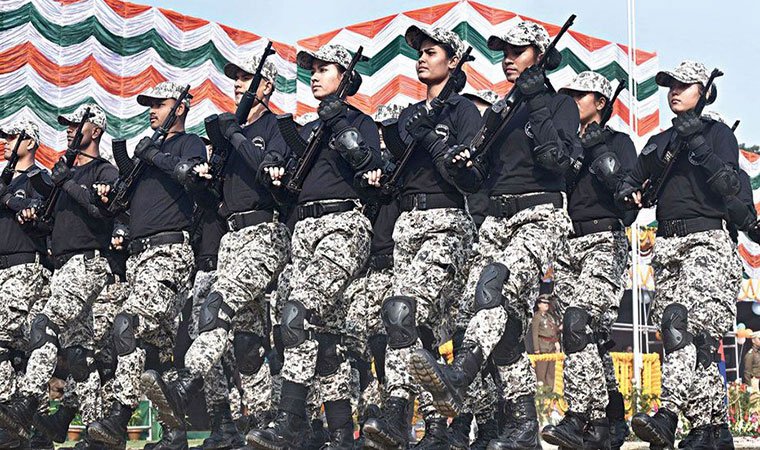 Police commandos march at the Republic Day parade at Khanapara in Guwahati on Sunday Picture by UB Photos
Five low-intensity blasts marked Republic Day celebrations in Assam on Sunday despite a daylong strike called by Ulfa (Independent).
The government used the occasion to reiterate its commitment to protect the state's "culture, language and political identity" which the anti-Citizenship Amendment Act brigade say is under threat.
Ulfa (I) claimed responsibility for the blasts, all in Upper Assam — three in Dibrugarh district and one each in Tinsukia and Charaideo districts. Nobody was hurt.
Two blasts occurred in Dibrugarh town around 8am on Sunday — one at Graham bazar near a garbage dump along NH 37 and the other near the boundary wall of Sikh National School at Marwari Patty. The third blast occurred at Peopoltol Tiniali in Duliajan around 8.05am, damaging a footpath. Another explosion was triggered near Koliapani bridge at Doomdooma in Tinsukia district. The fifth blast occurred near a shop at Teok ghat at Sonari in Charaideo district.
Dibrugarh superintendent of police Sreejith Tiraviam said, "The blasts were of low intensity. Ulfa(I) triggered the explosions to show their presence. Investigation is on and we will take strict action against those involved."
Director-general of police Bhaskar Jyoti Mahanta said, "We have received the information about the explosions in Dibrugarh. An investigation has begun to find out those involved in the incidents."
Chief minister Sarbananda Sonowal termed the blasts a "cowardly act" and sought the people's support to strengthen democracy. "Today, I want all the people to take a vow to join hands in unity and harmony and help take the state on the path of progress. Let's all work together to make Assam one of the best states in the country. We all must remember the sacrifices of our freedom fighters and work to fulfil their dreams of a powerful India," he said.
Governor Jagdish Mukhi, who took the guard of honour during the Republic Day celebrations at Khanapara here, also pressed for a peaceful and prosperous Assam. He highlighted how the current government was working to provide maximum benefits to the people.
"The state government is committed to safeguarding all the rights of the people and that's why it has taken effective steps to implement Clause 6 of the Assam Accord to provide constitutional safeguards to the state's culture, language and political identity for good. The Centre and the state government are working in tandem to accelerate Assam's progress," Mukhi said.
The government also felicitated three of five Padma Shri awardees from the state — Lal Bahadur Chettri (his son attended) and Jogendra Nath Phukan (literature and education) and Kushal Konwar Sarma (medicine). The other two winners are Indira P.P. Bora (arts) and Ravi Kannan (medicine).
News Source Telegraph India Additional reporting by Avik Chakraborty in Dibrugarh